(Editors note: This is both the first guest post - from Stodgy Blog - and the first post on golf. Enjoy!)
The 2013 golf season kicks off this weekend for Tiger Woods and Rory McIlroy in Abu Dhabi1. Coming off of a solid 2012, Tiger is looking to break a 5-year major slump. In order to close the deal on Sundays, I have one suggestion for Tiger: wear black shoes.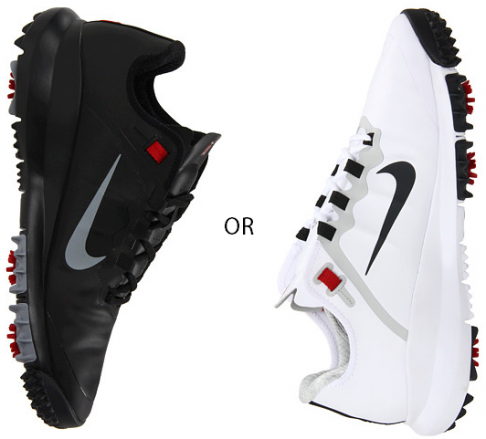 For every final round, Tiger sports a red shirt with black trousers. To begin 2012, he started wearing his new Free-inspired golf shoes. Some Sundays, he paired the black pants with white shoes, sometimes black.
In addition to looking foolish wearing white shoes with black pants, there is highly suggestive data that indicates performance is markedly improved with the black shoes2.
Over the course of 17 events in 2012, starting with Abu Dhabi in January and finishing with the Tour Championship in September, Tiger shot and average of 3.7 strokes better on Sunday wearing black shoes compared to white. But, perhaps, Tiger wore the black shoes on easier courses…
He did, but the effect is slight. Tiger still is 3.21 shots better compared to the average field performance in black over white. Take a look at the raw data: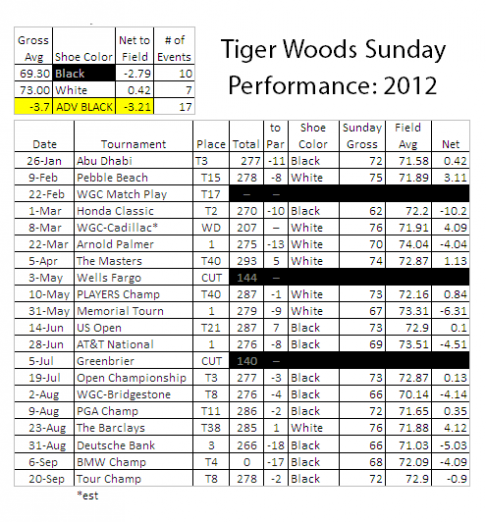 Despite this overwhelming data regarding shoe color, the more telling behavior here is the performance in major championships3. Here, he averaged .43 shots above the field on Sunday, never beating the field. Comparatively, for the three victories, Tiger's Sundays bested the field by almost 5 shots.
-Chris
Notes:
1. 10:00 PM Eastern, Golf Channel
2. Data is clearly not significant. It only measures 17 events, of which, the back half are loaded with black shoes. Tiger was 0.3 shots better in the second half of the year net to field.
3. The Masters, US Open, Open Championship, & PGA Championship.